Restore Your Teeth With Beautiful Porcelain Crowns And Dental Bridges In Farmington, NM, and Rio Rancho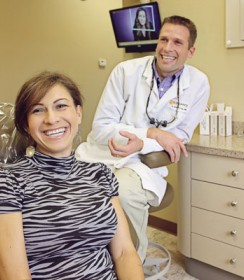 Our teeth are meant to stay strong and last a lifetime. But that's not always the case because our lifestyle and habits may sometimes take a toll on our oral health approaching professional dental experts. Poor oral hygiene, age, unhealthy eating habits, smoking, accidents, and other factors can lead to oral health problems. It starts from the build-up of cavities. It is eventually causing tooth decay or cracks that require immediate professional attention. 
Our specialists understand that to protect your oral health, they may have to repair the teeth or even remove them. So at Sundance Dental & Orthodontics, your trusted oral healthcare partner, we offer restorative dentistry solutions. We understand that a repaired or missing tooth can disrupt your day-to-day functioning. To help you carry out regular activities with confidence, we provide two unique treatments: porcelain crowns and dental bridges, among other things.
Protect Your Teeth With Porcelain Crowns at Sundance
If you've suffered from extensive decay or have a severely cracked tooth, our dentists may recommend a porcelain dental crown, which usually accompanies procedures like a root canal. Once our dentist treats the infection, they will finish the process by placing a crown over your natural tooth. 
A dental crown is a protective cover or cap-like structure that is placed over a natural tooth to prevent it from further damage. This crown saves your natural tooth, which may otherwise get removed. With dental crowns, you can chew, speak, and smile effortlessly! 
At Sundance Dental & Orthodontics, our approach is not limited to your oral health but extends to your overall health.
Keeping your health and safety in mind, our dental crowns are made using high-quality porcelain materials designed to look and feel like your natural teeth. Specially customized for you, they are crafted for excellent comfort and a natural appearance. We recommend these porcelain teeth in our restorative and cosmetic dentistry, Farmington, NM, depending on your condition.
Why Choose Porcelain Dental Crowns?
At Sundance, our dentists recommend tooth-colored porcelain crowns for a range of reasons, which include the following: 
They restore the normal functioning of your teeth 

They protect and strengthen weakened teeth

They're aesthetically appealing

They help improve the appearance of misshapen or discolored teeth

They are specially tailor-made for your tooth structure
Replace a Missing Tooth with Dental Bridges at Sundance
A broken smile can break your self-esteem. Sundance Dental & Orthodontics is here to your rescue. Whether you have single or multiple missing teeth, we provide robust solutions for all types of conditions. In addition, our dentists can help with dental bridges and implants to regain your lost smile and confidence. 
Dental bridges are a widely used conventional oral appliance, including one or more porcelain crowns. In this procedure, our dentist will place a porcelain dental crown on the teeth adjacent to the gap to hold the bridge. A dental crown or crowns will be fixed in the gap to replace one or more missing teeth. For a stable teeth structure, our dentists might also recommend implant-based bridges. 
Why Opt for Dental Bridges?
A dental bridge is a traditional oral solution that offers multiple benefits: 
Replaces missing teeth or teeth

Prevents further tooth loss due to missing or broken tooth

Restores the functionality of your teeth 

Enhances aesthetics with tooth-like porcelain crowns 
Visit today or contact us to know more about how our skilled dentists can help you with porcelain crowns and dental bridges.