Tooth Implant Dentistry With Your Sundance Dental Team In Farmington NM and Bloomfield NM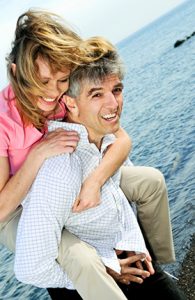 We know your smile is precious. A missing tooth can create a dent in your beautiful facial features. Tooth loss can occur due to various factors including injury, cracked tooth, or even a severe tooth decay that demands extraction. With timely treatment and solutions, you can prevent any resulting problems. 
Dental implants, NM, are an excellent tooth replacement for anyone who has suffered tooth loss. They are artificial tooth roots that fuse into the jawbone to provide a sturdy base for your replaced tooth. Through a process called osseointegration, these screw-like titanium alloy structures are fitted into the jawbone to provide strong support to the porcelain crowns placed on top of it. 
Dental implants, Farmington, NM have been successfully used for years now. They are the perfect choice for tooth replacement because they are the closest implants that can bring back your healthy, natural smile. 
Tooth loss can lead to deterioration of the jawbone, causing misalignment of teeth. It can also aggravate teeth loss and create problems in the normal functioning of your mouth. Custom-made to fit you, dental implants are a restorative option that helps preserve your jawbone. They stimulate the bone structure and allow you to enjoy eating, talking, smiling without any hassles. 
Sundance Dental and Orthodontics is proud to offer one of the best restorative dentistry solutions, dental implants, at its offices throughout New Mexico.
Why Choose Dental Implants?
Dental implants, Farmington, NM carry a plethora of benefits. They act as a natural tooth that lets you enjoy everyday activities effortlessly. 
These appliances restore your oral health and reduce the risk of further tooth loss. With these implants, you can bring back your natural smile and regain the lost confidence to lead an enthusiastic life. Their benefits are many.
Good Health –

Dental implants help maintain your oral health by saving your jawbone from deteriorating. They stimulate your bone and keep your teeth structure in place for a healthy smile. 

Beauty –

If you're looking for a solution close to your natural tooth, then dental implants, Rio Rancho, NM are an excellent choice. Each implant comes with a customized dental crown that looks and feels like a natural tooth. By restoring your smile and supporting your teeth structure, they enhance the aesthetics of your face.

Functionality – Dental implants function exactly like your natural teeth. You can smile, eat, drink, talk, and enjoy regular activities without worrying!
Durability – Crafted from titanium alloy, these structures are meant to last. If you take good care of them, they can serve you for 25 years or even a lifetime.
Implant Dentistry at Sundance Dental & Orthodontics
Your search for teeth restoration ends at Sundance. We are a full-service center for all your implant dentistry needs. At Sundance, our dental experts will provide you with a comprehensive solution at a single location, so you don't have to slog to different places to complete your dental procedure. 
Our friendly dentists will hear all your concerns and prepare a treatment plan in line with your goals and preferences. They will closely work with you to understand if dental implants are the right choice for your condition. 
Using the advanced CT scan technology, our dentist will analyze your oral health and optimally decide to place your implants. This will bring in efficiency and accuracy to craft a pretty smile that you can flaunt for life! 
Don't delay filling that gap in your teeth! Call us now to understand dental implants and get one!