Get Straight Teeth With Invisalign Clear Braces In Rio Rancho And Farmington NM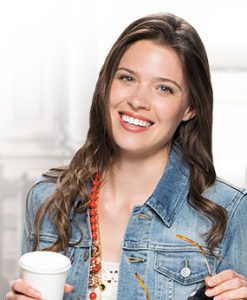 A perfectly aligned set of teeth is something everybody would want. However, dental problems like misalignment, overcrowding, or crooked teeth can discourage many people from smiling confidently.
Traditionally, braces were the most viable option to straighten teeth and enhance your smile. Although people want a well-aligned set of teeth, they don't want metal wires and brackets to ruin their oral aesthetics. Braces continue to offer great results, but most people seek a solution that straightens their teeth without compromising comfort or appearance. 
A popular treatment option in our orthodontics, Farmington, NM, services is Invisalign. An alternative to traditional braces, Invisalign or clear aligners can treat dental misalignment without the discomfort and unattractiveness of a metallic appliance. At Sundance Dental and Orthodontics, we proudly offer Invisalign to our teen and adult patients. 
Why Get Invisalign at Sundance Dental and Orthodontics?
You can now enjoy straight teeth and a radiant smile without the discomfort of traditional metal wires or braces. We offer Invisalign clear braces as a part of our orthodontics, Rio Rancho, NM, Bloomfield, and Farmington, NM, services.
Invisalign or clear aligners are removable plastic trays that can effectively align your teeth. This appliance is customized to fit you; it pushes your teeth to become straighter, enhancing your mouth's structure. In addition, these clear or invisible trays allow you to straighten your teeth without compromising on the visual aspects. 
Although highly effective, Invisalign may not always be the right option for everyone. Our professionals specializing in orthodontics will work with you to determine if Invisalign is an option for you. As the treatment progresses, you will receive custom-made trays to align your teeth every few weeks. Our dentists will provide you with the necessary care tips and are always there to serve you throughout the process.
What Are the Benefits of Invisalign?
For patients who don't want teeth straightening to get in the way of their daily routine, Invisalign offers benefits. This includes:
Comfort – Unlike metallic braces that scar the insides of your mouth and gums, leaving you in pain, Invisalign is made of smooth plastic that does not irritate your mouth. Our orthodontics, Farmington, NM, offers tailor-made Invisalign that adds to the comfort.
Convenience –Invisalign appliances are removable, so you don't have to give up your favorite foods or worry about your dental health. With Invisalign at orthodontics, Bloomfield, you can remove them while brushing or eating for better oral hygiene.
Aesthetic Appeal –No one can tell if you're wearing Invisalign because they're invisible! Now, you can carry out your daily activities with a confident smile on your face with Invisalign.
Please book an appointment with us today and get a beautiful smile with our orthodontics, Farmington, NM.