Get Straight Teeth With Invisalign Clear Braces In Rio Rancho And Farmington NM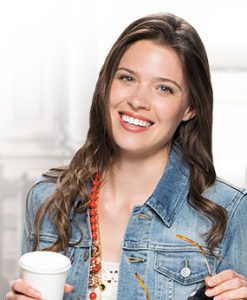 Enjoy Beautiful Straight Teeth Without Wires or Metal With Invisalign Clear Braces!
At Sundance in New Mexico, from Farmington NM to Rio Rancho, we are proud to offer Invisalign braces for both our teen and adult patients. Now with Invisalign, you can straighten your teeth without traditional braces. Instead of wire or metal, Invisalign uses a series of plastic aligners to straighten teeth. Each aligner is made specifically for each patient and pushes the teeth into straighter positions over time.
The Benefits of Invisalign Clear Braces:
Invisible – Most patients want straight teeth, but many don't seek orthodontic treatment because they are put off by the way traditional braces will alter their smile's appearance and draw unwanted attention to their teeth. Invisalign braces are virtually invisible and allow these patients to straighten their teeth discretely.
Comfortable – Wire and metal braces can snag against the inside of your cheeks or your gums and cause serious discomfort. Invisalign clear braces don't use wire or metal and will never cut or scar your gum or cheek tissue.
Shorter Treatment Time – Invisalign treatments can be completed in as little as a year and a half. Traditional braces treatments often take around two years to complete.
Less Orthodontic Treatments – Traditional braces have to be adjusted and take frequent orthodontic treatments. Invisalign treatments don't use any wires or metal and don't have to be adjusted, and require less appointments overall.
Removable – Invisalign braces are convenient and removable. Patients with Invisalign braces don't have to worry about food restrictions and can brush and floss their teeth normally.
Confidence – With Invisalign clear braces, you'll be able to straighten your teeth without feeling self conscious about the way that your braces look. Your peers won't even be able to tell you're wearing braces. Invisalign patients enjoy a higher level of confidence during treatment and can feel more assured during social situations.
To schedule an appointment to get your new beautiful smile, or to find out about our other orthodontic treatments, call us at any of our offices today; Farmington NM, Gallup NM, Rio Rancho NM and Bloomfield NM!
RELATED PAGES