Get Care When You Need It With Emergency Dentistry From Your Sundance Emergency Dentist
We hope that you and your loved ones never experience a dental emergency, but if the worst ever happens, you can feel secure knowing that you have a team of emergency dental care professionals who are here for you. At Sundance Dental and Orthodontics throughout New Mexico, we offer same-day emergency dental care at our practices in Rio Rancho, and Bloomfield NM. If you call us with a dental emergency, we can get you an appointment the same day, and see that you receive the care you need as soon as humanly possible. Dental emergencies are thankfully rare, but our team at Sundance is always here and ready to provide you with compassionate, prompt care.
When Do You Need Emergency Dental Care? 
Life is unpredictable. You never imagine breaking or losing your teeth, but you may lose one while playing sports, or you may chip one while opening a bottle cork! Certain habits and events can result in situations that require emergency dental care. Injury, accidents, teeth grinding, poor oral hygiene, extreme pressure on teeth, etc. often require immediate medical attention.
Some common dental emergencies include:
Cracked or broken tooth

Knocked out tooth

Bleeding gums

Swollen and tender gums

Tooth abscess

Sharp, prolonged toothache

Pain in the jaw
What To Do If You Have a Dental Emergency?
While certain oral problems can wait, dental emergencies demand immediate medical help. If you or your child has a broken tooth or extreme tooth pain, pick up the phone and book an appointment with your emergency dentist, Farmington, NM. As an emergency dental care provider, Sundance Dental and Orthodontics attends to urgent requests as soon as possible.
Till you get to your emergency dentist, certain precautionary measures can help you bring the situation in control. Remember that every dental emergency requires a different approach.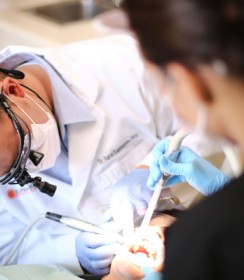 Knocked Out Tooth – If you have a knocked out tooth, the best thing you can do before you call us is to try and re-insert the tooth back into the socket. If the tooth cannot be re-inserted, place the tooth in a small container with milk, and bring it to our office immediately.
Cracked or Chipped Tooth – If your tooth becomes cracked or chipped, call us at our office immediately to schedule an emergency appointment to get it restored. If the pain becomes difficult to bear, you can apply a cold compress to relieve some of your discomfort.
Lost Dental Appliance – If you have a dental appliance and it is knocked out, or lost, call us at our office. We will arrange an appointment to replace the dental appliance as soon as we possibly can, and will give you further instruction in the meantime.
Broken Jaw – After an accident, if you suspect that your jaw may be broken, you can relieve some of the pain by applying a cold compress to the area. Patients who have a broken jaw should call us immediately at our office for emergency dental care.
Toothache – If you are experiencing a toothache, it could indicate a more serious issue that requires root canal therapy. Call your dentist if the toothache becomes severe or chronic.
If you are experiencing a dental emergency, please call us immediately. We will schedule a same-day appointment with your emergency dentist, and work with you to get you the help that you need if you are in the areas of Farmington NM, Rio Rancho NM, Bloomfield NM, or Gallup NM.
RELATED PAGES