GET BRIGHT, WHITE TEETH WITH TOOTH WHITENING FROM YOUR SUNDANCE DENTAL TEAM IN FARMINGTON, NM!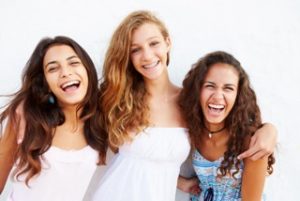 White teeth communicate even when you aren't speaking. Your smile is the first thing that most people notice about you, and when you have dazzling white teeth, your smile can share a message that conveys confidence, health, and attractiveness. Teeth whitening is one of our most popular cosmetic dentistry services because. It is one of the easiest ways to enhance your natural teeth' beauty dramatically. We offer office whitening and take-home treatment at our New Mexico practices in Farmington, NM, Rio Rancho, and more.
IN-OFFICE TEETH WHITENING
Did you know that you can walk into your dentist's office and walk out the same day with beautiful, white teeth? Our Boost in-office tooth whitening treatment can whiten teeth up to eight shades in less than an hour. When you choose in-office tooth whitening, we'll apply a special whitening gel to your teeth that will remove stains and help you achieve a whiter, brighter smile. Our in-office whitening treatment is excellent for patients who have a wedding or other special event and could benefit from instant results. Patients love in-office whitening because it is efficient, convenient, and achieves beautiful results.
TAKE HOME TOOTH WHITENING
With take-home whitening, patients also have the option to whiten teeth in the convenience of their own home. Each tray is custom-made for each patient to provide optimal fit and comfort. Our take-home whitening kits are easy-to-use, more effective than most over-the-counter treatments, and utilize a Boost whitening gel that is only available through your licensed dentist. By wearing your take-home trays for thirty minutes daily, you may achieve a beautiful white smile in as little as two weeks. Take-home whitening is a convenient and affordable way to whiten your teeth at home.
Call us at our New Mexico offices today to learn more about our teeth whitening treatments or schedule a teeth whitening appointment. We also offer more permanent solutions, such as porcelain veneers, for all our patients throughout Farmington, NM, Gallup, NM, Rio Rancho, NM, and Bloomfield, NM!